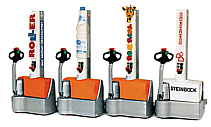 Fleet Management
Fleet Management simplifies control of multiple vehicle applications. The overview allows the customer to maintain cost and maintenance control over the vehicles. A computer based management software program maintains important information. Some vehicles can upload information automatically.
Equipment useage (time)
Service intervals
Cost
Repairs
Spare Parts utilization
Charging / battery maintenance
The system assists the owner in the organization and control of a fleet of vehicles. Important specific information can be obtained at a moments notice.