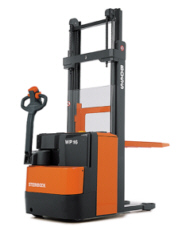 Walkie Pallet Stacker
The Walkie Pallet Stacker is straddle or fork-over vehicle. The truck can either have wheels that straddle a pallet or in the case of skids be located under the c-channel forks (reducing the overall width of the vehicle). The vehicle is suited to transport loads within walking distance and stack in limited or confined areas. The forks / straddle arms must suit the application and pallet.
A disadvantage to the walkie stacker is the low ground clearance found in the outrigger arms - the vehicle is not designed to negotiate door jams or uneven dock levelers.