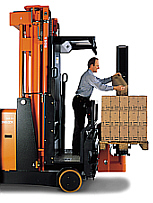 Reach Height
The Reach Height of a person when order picking from a pallet is about 5'-6" but not higher than 6 feet. This height should allow the order picking person to reach goods from a loaded pallet without strain.
The Reach Height for order picking from a low level order picking truck is added to the drivers platform height.
In connection with high lift order selecting trucks the Reach Height is also measured from the drivers platform on up. It also determines the minimum lifting height the order selector truck must have. For example: The overall height of the top load stored in a pallet rack is slightly over 30 feet - therefore the lifting height for the order selectors truck platform should be no less than 25 feet.