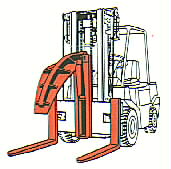 Timber Attachment
A Timber Attachment is a hydraulic attachment for fork lift trucks. It allows the transport of tree trunks. It is most frequently found on rough terrain trucks for work in the open field.
- have a single arm to hold the load and prevent it from rolling off.
Timber Grabs with adjustable arm
- when work changes between using forks only and timber grabbing without removing the timber attachment
Timber Grabs which can pull tree trunks on to the forks
Timber Grabs with tilt or with hydraulic push addition.