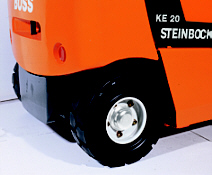 Tires
Tires represent the connection between the fork lift truck and the floor it rolls on. They act partially as shock absorber and transmit the power between the fork lift truck and the ground.
The most important requirements for the manufacturers and owners of fork lift trucks are:
high capacity of small diameter tires
minimal rolling resistance
solid support
good driving comfort
long tire life
The many different types of fork lift trucks require a number of different tires and dimensions.
1) Pneumatic Tires
Pneumatic Tires - same as found in automobiles - are mounted on a rim and filled with air. The type of the tire depends on the required capacity and the needed size. The capacity is determined by the air pressure and the amount of air enclosed.
a) Low Pressure Pneumatic Tires
low ground pressure, high shock absorption, good driving comfort.
especially suited for poor and rough surfaces
b) High Pressure Pneumatic Tires
High ground pressure and low shock absorption
only suitable on solid grounds
2) Foam Filled Pneumatic Tires (also called Super Elastic Tires)
Foam Filled Pneumatic Tires are exactly what the name implies. It is a Pneumatic Tire but instead of the air filling, it is filled by a foam. They consist of the following components:
The tire rim - same as for pneumatic tires
The foam cushion - filled into the cavity of the pneumatic tire under pressure
The regular pneumatic tire with suitable profile.
The use of these tires requires firm grounds with sufficient capacity.
Advantages:
No more flat tires
no maintenance
especially suited where high stability is required
3) Solid Rubber Tires
Solid Rubber Tires - as the name implies - are tires made entirely from rubber mounted directly to the rim. They offer very little shock absorption and normally have no profile. They offer the following advantages:
small in size but with high carrying capacity
high stability for the truck
the least rolling resistance
Shock absorption and driving comfort are minimal. These tires should be used with driving speeds up to 10 miles only. They can be used on solid grounds with sufficient capacity.
4) Polyurethane Tires
Polyurethane Tires - also known as Vulkollan Tires - are solid tires with the artificial rubber (polyurethane) cured directly to the steel body. Since the polyurethane is very tough, the capacity is about double that of rubber. Polyurethane tires are also non-marking tires. They can be used in indoor operations with smooth clean floors.
Disadvantages:
low shock absorption
minimal driving comfort
not suitable for high driving speeds