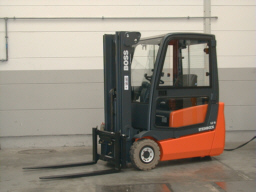 Drivers Cabin
A Drivers Cabin protects the driver of a forklift truck from inclement weather when driving outdoors (snow, rain or cold) - or when lift truck works insider coolers or freezers.
There are three different types of weather protection for forklift drivers available.
Overhead Guard Cover (roof)
- for the occasional outdoor operation - a tarpaulin is attached to the top of the overhead guard.
Drivers Compartment Cover
- for frequent outdoor operation - a tarpaulin with built-in clear plastic windows covers the entire drivers compartment.
- a permanent mounted fully enclosed cabin offers complete weather protection and comfort for the driver. Heat, Ventilation and Windshield Wipers are often supplied with the Driver Cabin